888-960-2969
770-267-1503
HOURS
Monday to Friday
9:30am to 5:30pm
Saturday, Sunday
Appointment Only
Location in Loganville, GA
2252 GA-10 (Hwy 78), Suite A
Loganville, GA 30052
Click the map below for directions.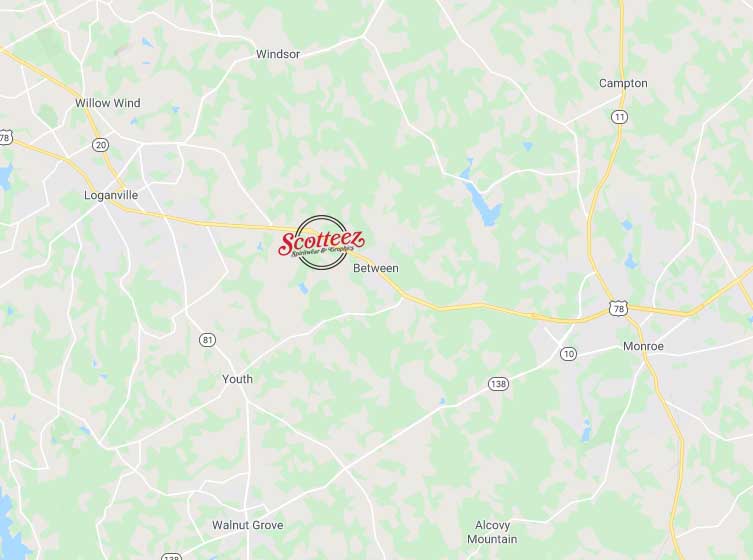 At Scotteez we would be more than happy to get your printing project taken care of. From signs to banners, to school ts-hisrts and employee uniforms, we've got it covered. Our team has the screen printing process down to a fine science, and can handle all of your needs for embroidery as well. We're so glad to have been able to serve the Loganville and greater North Georgia area for all of their printing needs since 1994. 
Our printing shop in Loganville uses the best quality products for the most affordable price possible. We frequently handle large orders, and regularly work with schools, churches, businesses, and other organizations. Spiritwear and branded products are at the core of what we do, and we strive to always provide the best customer service, while creating the best product for our clients as well. Whether you want assistance designing t-shirts for your organization, need help handling a large banner for a chamber event, or want to get your employees winter jackets for the colder seasons, we're ready to tackle whatever promotional product needs you may have. 
When your logo is being printed or embroidered on a physical item, it's important that it represents your business well. Branded products are one of the best ways to advertise your business when out and about, but it's important that they're done well. At our business, our promise to you is 100% customer satisfaction. Our attention to detail and precise process has led to our success as the leading printing and embroidery shop in the greater Walton County GA area, and we're only getting better each year on. 
Commemorating events is a large part of what we do, and we'd be delighted to work with you to celebrate a special moment or event. Varsity jackets are a popular one, and we regularly partner with local schools to place your student order for letterman jackets and patches, which are entirely customizable as well. Homecoming, graduation, field trips and field days, you name the event and we've got a t-shirt for it. If you need some help with the designing process, feel free to take a look through our gallery of templated designs ready to go, and ready to be ordered online with just a click. 
We love serving our clients and getting the word about their business or organization out there. We've committed to providing efficient, well done, and affordable printing services for our clients, and it doesn't stop with our local organizations. We ship our products as well, so no matter where you're located, you can always experience the Scotteez difference. Our staff is friendly, capable, and ready to tackle your printing and embroidery projects, no matter what they may be. Give us a call or visit our store, located in Loganville, Georgia, near Snellville, Grayson, Winder, Monroe, and Oconee County. 
Here at Scotteez, our team has got you covered when it comes to affordable, high quality printed t-shirts for any event or organization. Team uniforms, employee attire, screen printing orders of any size, our friendly staff at our Loganville GA location is here to help. We can work with pre-made designs you'd like printed to your product, or we can work with you to come up with an entirely new design with our graphic designers. We specialize in making these t-shirts and promotional products completely custom to you and your business. 
We love working with sports teams, churches, schools, local businesses, and organizations like the chamber of commerce. With so many events, we've gotten really good at what we do, and we've been able to foster long lasting relationships with so many members of our community, and we love that. Getting to work with the businesses and organizations that make our area of Walton County great is why we do what we do. We've streamlined our screen printing process and can have your orders ready within your time frame, at an affordable cost. 
All of our printing work is done in-house, so the quality is never sacrificed for cost. We pay attention to the details that are important to you, because it's important to us as well. We can print t-shirts for any occasion, and can work with you on budget, design, and timeline. Feel free to bring in any inspiration or design you'd like, and we'll work with you to come up with a product that's perfect for the occasion. We also do custom embroidery, so for employee uniforms or higher quality pieces, we've got you covered as well. We work with numerous t-shirt companies, so chances are we've got your favorites like comfort colors and other producers as well. 
We'll make sure you're satisfied with the design before we go into the production phase, and we'll keep you updated on your order to ensure we're on track for the deadline.  Our in-house printing team is diligent and skilled, so we'll have your order ready for pickup at the designated time with the order printed perfectly. 
If you're looking for a local printing and embroidery company serving the Athens, Oconee, Loganville, and Walton County areas with care and quality, look no further than Scotteez. We're family owned and operated, and we genuinely look forward to seeing you in the shop soon.